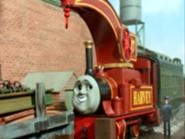 Harvey is a tank engine, who works on the North Western Railway with a crane mounted on top of his boiler, which makes him look rather unusual.
All the engines except Thomas teased Harvey at first, but when he was able to rescue Percy after an accident, they realized that his difference was what made him special. Since then, he has proved very useful, using his crane arm for maintenance, building and clearing up. He mainly works at Brendam and the yard, but his favourite place to be is at Great Waterton, where he is said to live.
Since his addition to the railway, Harvey's helped after many accidents, but he couldn't do it alone, so Rocky was brought to help.
Bill and Ben made fun of Harvey for being a both a crane and an engine. However, Porter helped Harvey see to the positives of being a crane engine. The dock manager asked Harvey to deliver flatbeds of scrap metal to Vicarstown since Edward had been delayed, but because he wasn't paying attention when he was going down Gordon's Hill, his flatbeds derailed and made a terrible mess. Fortunately for Harvey, he was able to use his crane to clear it up and was able to deliver the cargo.