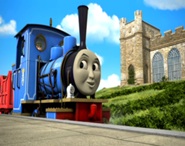 Millie is Sir Robert Norramby's private French steam engine.
Millie is a bubbly French engine who is owned by Sir Robert Norramby and runs on narrow gauge lines. She lives and works at Ulfstead Castle where her duties include assisting the groundskeeper and taking visitors on tours of the estate. For this, she has Millie's Carriage While the Earl was travelling the world, Millie stayed in her shed at the castle.
Millie once swapped jobs with Luke. Although she struggled to adjust to start with, she ended up loving the Blue Mountain Quarry, although she was pleased to return to her own job at the castle and even more pleased to have made friends with Luke.