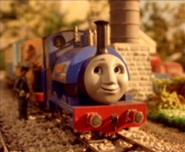 Sir Handel, named after the Skarloey Railway's first owner, Sir Handel Brown I - but previously Falcon, after the works where he was made - is a narrow-gauge tank engine who works on the Skarloey Railway.
Falcon was built at Falcon Works in Loughborough, England for the Mid Sodor Railway as an 0-4-0ST, causing him to bounce until he was rebuilt with a rear pony truck.
When the Mid Sodor Railway closed in 1947, he and Stuart were sold to the aluminum works at Peel Godred for an expansion project. They were sheeted at the project's close for almost a year, then both were purchased for a total of fifty pounds by the Skarloey Railway and renamed Sir Handel and Peter Sam respectively.
Sir Handel did not cope well with the worn track on the railway and would often derail - sometimes deliberately. He was given a pair of special wheels with broad tyres to cure this problem, dubbed "steamroller wheels" by the other engines.
He was derailed by his own coaches when he stopped too quickly in front of some sheep. After coming back out, he got into a fight with George the steamroller, which ended in a race with George smashing Sir Handel's trucks. Once George had left, Sir Handel became even more conceited then ever and believed that he had made George go away.
Sir Handel was working in the stone quarry because of bad behavior. When he returned, he had a much different attitude. He did his jobs without complaining, and had trouble getting up hills. He is also wiser in most situations, but in some cases he is still pompous. He is generally of the opinion that he knows best and should be in charge.
Built- 1888
Designer- Henry Hughes
Builder- Falcon Works
Arrived on Sodor- 1904
Original Railway- Mid Sodor Railway