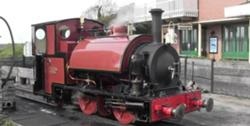 Sir Haydn was built in 1878 by Hughes' Loco and Tramway Engine Works Ltd. of Loughborough as a 0-4-0ST. He currently lives on the Talyllyn Railway.
He worked on the nearby Corris Railway until the closure of that line in 1948. In 1951, he was purchased by the Talyllyn Railway, along with the other surviving Corris locomotive, who became Edward Thomas, and was named after the line's late owner, Sir Henry Haydn Jones. The precarious state of the track meant he was seldom used for the first few years, and firebox problems caused his withdrawal in 1957. He re-entered service in 1968.
In April 2012, Sir Haydn made his second visit to the Corris Railway and worked there until May 17, 2012 when his boiler certificate expired. However, he remained at the Corris Railway for the rest of the summer as a static exhibit to generate interest in the Corris Railway's plans for their next new-build locomotive; a copy of Sir Haydn. Sir Haydn is currently touring railways across Great Britain to raise funds for an overhaul; he is currently on display at the Severn Valley Railway. After this, Sir Haydn will return to the Talyllyn Railway for his overhaul.